About Us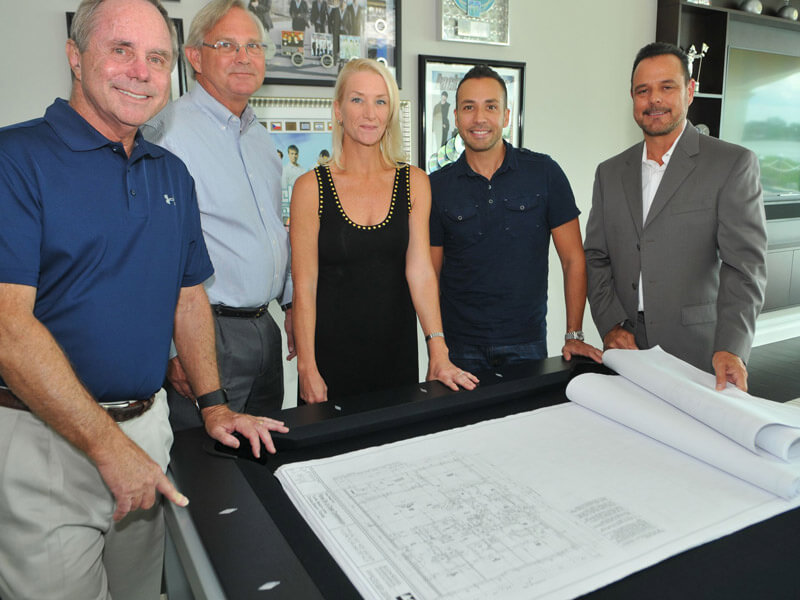 Dorough Brothers teams with Boyd Construction, Sand Dollar on Projects
COCOA BEACH — Two entrepreneurial brothers — Howard "Howie" Dorough and John Dorough — have been quietly investing in Brevard County real estate, going back years. They have recently accelerated their pace of activity as buyer demand for their projects is on a sharp upswing. The brothers see a long–term business opportunity in a region that they have come to embrace as residents. Howie Dorough, the youngest of five children in his family, gained fame as a teen member of the musical group the "Backstreet Boys," which was formed in 1993 in Orlando and went on to international acclaim, especially in Europe and Canada in the group's early years. The brothers, who were born and raised in Central Florida, have developed the highly successful, architecturally appealing "Flores" series of luxury oceanfront condominiums in Cape Canaveral and in Satellite Beach, and soon–to–be in Cocoa Beach, creating more choices for premium buyers in these markets. With their Flores concept, they've honed a business model that's workable and their projects have a family heritage slant, too. "Flores is my mother's maiden name," said John Dorough, the president and chief operating officer of Dorough Brothers Development. "She's from Puerto Rico. We love the name. It means 'flowers.' We brought that name in and it just seems to work really well for us. We have been selling out before we can even complete the projects. And we would like to keep that trend going. It seems that we have Momma's blessing on these projects."
They've developed the Flores Ocean Suites in Cape Canaveral and the Flores del Mar, also in that market. Flores de la Playa in Satellite Beach is another one of their showcase projects. The brothers are part of a new wave of developers who bring a fresh perspective to their field. Their work ethic and their creativity for building and design have made them a rising development team in this region, with more projects in the works. For their new five–story Flores de la Costa Condominiums on Turtle Beach Lane in Cocoa Beach, which just broke ground, they are teaming up with one of the best– known, longest–standing custom homebuilders in the region, Charles Boyd Construction Inc., and Alyssa Boyd, broker and owner of 15–year old Sand Dollar Realty of Brevard Inc.
"When we first started developing here around 1999 we competed against each other on different buildings and projects," said John Dorough, whose company is also developing the luxurious Flores de la Costa Town Homes, just across the street from the Flores de la Costa Condominiums. "We had heard of Charlie (Boyd) when we came to Brevard and we knew he had a really good reputation as a builder and as a general contactor. So we decided to join forces with him on these projects."
The Doroughs and Boyds have since become like a family. "Howie's children and my children brought us together," said Alyssa Boyd. The University of Florida business graduate once worked in Atlanta as the regional director with a large real–estate firm, before starting her own full–service company, Sand Dollar Realty of Brevard. One of its areas of expertise is luxury waterfront property sales.
Alyssa Boyd is Charlie Boyd's daughter. Sand Dollar Realty of Brevard is marketing the Flores de la Costa Condominiums and the Flores de la Costa Town Homes, which will show off ocean views from the balconies. "Our kids first met at a preschool (Our Saviour in Cocoa Beach)," said Howie Dorough, the chief executive officer of Dorough Brothers Development. "Then Alyssa not only became a good friend, but also our Realtor. When my wife and I were looking to build a home in Brevard County, Alyssa helped us find a piece of land. We are working with her cousin, Christopher Burton, to actually build the home.
So the Boyds and the Doroughs are like one big family." The Doroughs' niche developments in the region tout quality construction and features that stand out. The Flores de la Costa Condominiums will have nine– and 10– foot–high ceilings and a host of other high–end features. "The condos will have higher doors than the standard door height," said Alyssa Boyd. "Even the entry doors and the interior doors are going to be seven– and eight–feet tall. There will be oversized windows and impact–resident glass, granite countertops and a high–quality appliance kitchen package, all–wood cabinets, high–end interiors, and full–length mirrors and garden tubs in the bathrooms. There, too, will be a sound–reducing underlayment beneath all hard–surfaced flooring."
A pool, an outdoor shower, and a private boardwalk to the ocean are some of the site features. Nine of the 14 Flores de la Costa Condominiums have already been reserved, she said. The units range in price from $325,000 to more than $900,000. Eight of the units have direct ocean views.
Most of the condominiums will have three bedrooms and three bathrooms, in the 2,460–square–foot to 2,700– square–foot range. Two of the units will have four bedrooms and three bathrooms. The first level of the five–story building will be for garage parking. The condominiums are being built in the Avon–by–the–Sea area of Cocoa Beach.
"The Flores de la Costa Condominiums are being built on a unique piece of land," said Charles Boyd, whose company has constructed hundreds of custom homes and condominiums in Brevard County since 1975, from Suntree to Melbourne Beach to Merritt Island and Cocoa Beach. "Many of the condominiums in the area are right on A1A. This project is situated on a small side street in Cocoa Beach, which makes for a quaint setting." "We will be expanding the roadway where the condominiums will be built," added John Dorough. "The road will be paved and made wider. We will be putting the utility lines underground. We will be improving the neighborhood overall. Wherever we have developed, we've always made the area more beautiful than it was before. I believe the neighbors' property values are going to rise because of these two projects we're doing across from each another."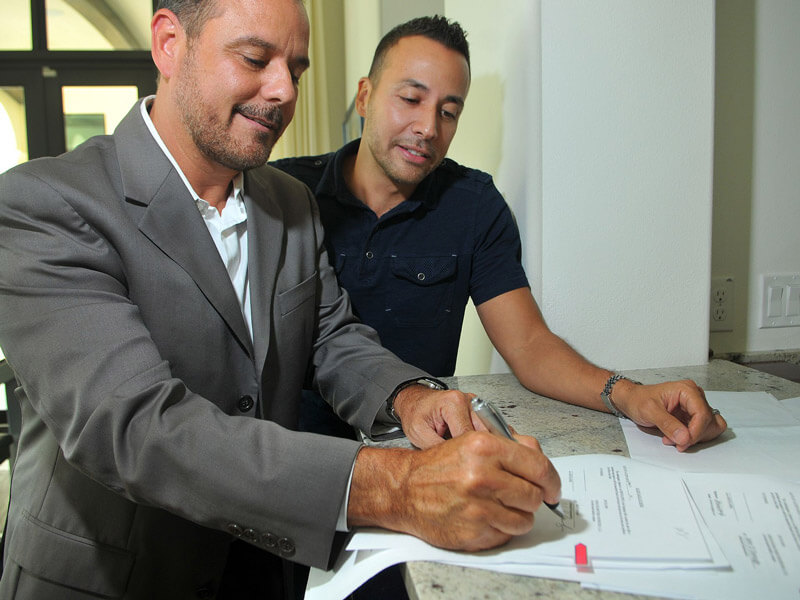 Charles Boyd Construction will start building the infrastructure for the condominiums in about three weeks. "We think we will have both projects — the Flores de la Costa Condominiums and the Flores de la Costa Town Homes — completed around the same time, in about 14 to 15 months," said John Dorough.
The Flores de la Costa Town Homes will complement the Flores de la Costa Condominiums. There will be three individual town homes, three stories each, with an optional elevator. They will feature four–bedroom floor plans with a first–floor guest suite. The Flores de la Costa Town Homes will include private two–car garages. The town homes will show off ocean views from the balconies. Prices for the town homes start at $530,000.
Sand Dollar Realty of Brevard is accepting reservations for the Flores de la Costa Town Homes as well as the Flores de la Costa Condominiums. Alyssa Boyd's office number is 591–7585 or send an e–mail to her at . The Dorough Brothers' team includes Dale Cox, a longtime certified public accountant who was born and raised in Titusville. Cox's professional experience includes having been the managing director for a national accounting firm. He has in–depth expertise as a business and tax consultant, and has worked with real–estate developers and general contractors.
"In the world of real–estate development, it always comes down to the numbers," said John Dorough, "so the role of the chief financial officer is always one of the important things. Dale is a big part of the success we have experienced developing in Brevard County." The Dorough brothers have developed a string of successful projects on the Space Coast, including branded hotels, such as the Country Inn & Suites by Carlson in Cape Canaveral.
"We are looking at putting a restaurant in front of our hotel in Cape Canaveral," said John Dorough. "And we have other projects planned, including an assisted–living facility for the Titusville market."
He added, "The timing on our projects in Brevard County has been impeccable, and that's a big part of it. We think that we're in the right market at the right time." It was John Dorough who put his brother Howie on the path to a second career in real–estate development and smartly diversified his core revenue generator — concerts, recording, and other streams of income tied to the Backstreet Boys' musical production.
"I am very fortunate, in that my older brother has always had my back and has always looked out for me," said Howie Dorough, who was 19 years old when the Backstreet Boys was formed in 1993 in Orlando. "There is 10 years between the two of us."
He continued, "Johnny didn't want me to be one of those episodes of 'VH 1: Behind the Music Stories' (which document the ups–and–downs of the lives of entertainers and squandered opportunities). So we started diversifying into real estate more than 15 years ago. Our approach has been slow and steady. We started with just one condominium building. Johnny is definitely the mastermind behind our success in development, finding the land and putting the projects together, of course working closely with Dale Cox."
Howie Dorough has crisscrossed the globe as a musician with the Backstreet Boys and has performed concerts in front of tens of thousands of fans. Their group has sold more than 130 million records worldwide, making them the best–selling "boy band" of all time. And the Backstreet Boys — Howie Dorough, A.J. McLean, Brian Littrell, Nick Carter and Kevin Richardson — are still on the circuit. They'll perform more than 100 concerts this year. In early 2013, the group was honored with a star on "The Hollywood Walk of Fame."
Because of his early success in real–estate development, the members of the Backstreet Boys have given Howie Dorough a nickname. They see him as a protégé of real– estate magnate Donald Trump. "We have been involved in real–estate development for quite a while now and Howie has made a name for himself," said his brother.
"The guys in the group say I'm turning into a 'Trump Junior.' I don't know if it's politically correct to say that. But I earned that nickname from them years ago, long before Mr. Trump actually entered the Republican primary presidential race. Real–estate development is an enjoyable side career and one that provides another outlet for me to be creative. We work as a team and everyone is involved. It's exciting to see the finished product," said Howie Dorough.
Source: Brevard Business News