Flores De La Costa
---
Flores de la Costa Condominiums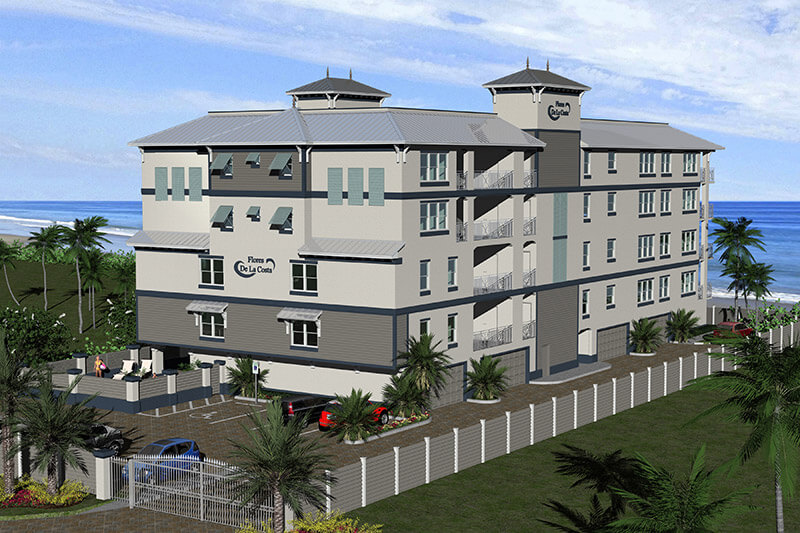 Flores de la Costa Condominiums and Town Homes are a brand-new luxury real estate development to be constructed in beautiful Cocoa Beach Florida.
The condominiums will be constructed along the coast line of Cocoa Beach, right at the edge of the sand and dunes to maximize the views. Flores de la Costa Condos will have amazing panoramic ocean views and breezes from the Atlantic Ocean from almost every room.
The Flores de la Costa Condominium building is five-stories high and is unique in the sense that it is located on a small seaside lane called Turtle Beach Lane in Cocoa Beach allowing for a more private, quaint setting than other condos in the area. The structure consists of 14 units, 8 of which have direct ocean views. The first level is garage parking and the residences start on the 2nd floor. The eight direct ocean condominiums are all 3 bedrooms, 3 bath plus have an additional room which could be an office or den. Residences offered range from 2200 to about 2500 square feet under air. There are four 2 bedroom condos to be constructed with north and south ocean views from the balcony. Also, 2 large 2300 square foot 4 bedrooms with warm southern exposure and ocean views on the 4th and 5th levels. The top floor is the penthouse level and ceiling height on the 5th floor is 10 ft.
There is truly no feeling quite like waking up or coming home to a view of the magnificent Atlantic Ocean. These units are also packed with a variety of high end features including but not limited to; high ceilings, above average interior door height, oversized windows with impact resistant glass, high quality kitchen appliance packages, granite or quartz countertops, all-wood cabinets, designer tile flooring and carpet, full length mirrors and spacious garden tubs in most of the master bathrooms. There will also be sound-reducing underlayment beneath all hard-surfaced flooring for added privacy and peace.
The amenities provided in this gated and quaint boutique style condominium include an outdoor shower, heated pool, covered poolside lanai, and a private boardwalk right to the ocean.
Cocoa Beach is a popular area and is home to a number of World Famous attractions including the Cocoa Beach Pier and Ron Jon's Surf Shop. Many other attractions surround the area include Port Canaveral, the Maxwell Kings Center for the Performing Arts and the Kennedy Space Center; to name a few and all are a short drive away. However, you will not have to go any further than your back yard to see rockets taking off. This area has earned its nickname as Florida's Space Coast. Your new home is just about an hour drive or less from the Orlando area, which opens the door to even more attractions including Walt Disney World, Universal Studios and City Walk and Sea World to name a few.
Cocoa Beach also has great options for relaxation and recreational activities including golfing, tennis, dining out, surfing, charter fishing tours, kayaking and a number of other activities to do on the water.
---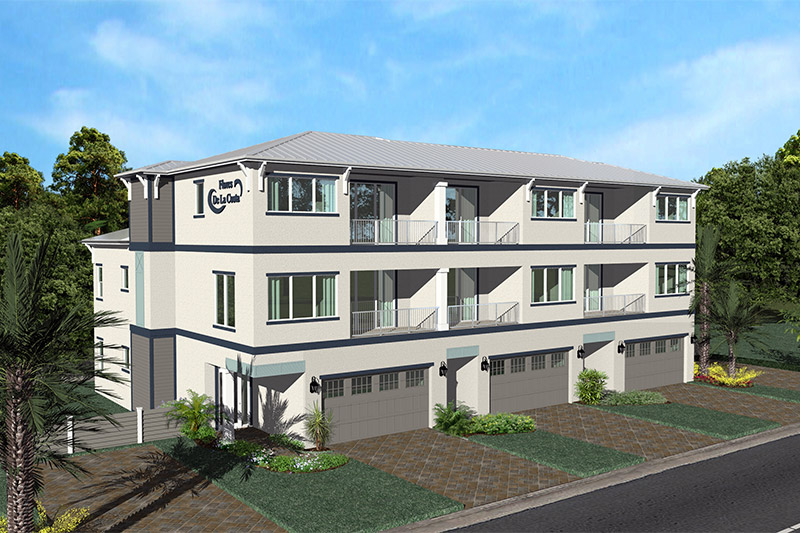 Flores De La Costa Townhomes
The Flores De La Costa Townhomes have a lot to offer as well. The town homes will be located just West of the condominium building. There are three townhomes, three-stories each, with an optional elevator available. The townhomes offer four-bedroom floor plans and feature a first-floor guest suite. The town homes will have all of the high end interior features offered in the condominium building. These luxurious townhomes also provide ocean views from the balconies.
Cocoa Beach is a great area to live in year-round but is especially great to spend the winters here and stay warm while enjoying the Florida sun. With so many choices for recreational activities your options are endless. Check out the Area Interests page for more details on entertainment/activity options.